Food 4 Less
Recipes
https://www2.myfood4less.com/Recipes/Detail/6092/Pina_Colada_Pie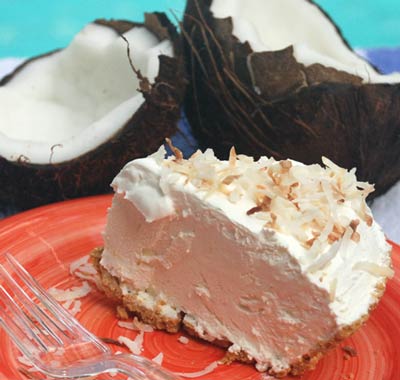 Pina Colada Pie
Yield: Serves 8
Ingredients
1
pkg.

(8 oz.) cream cheese

6
Tablespoons

Bacardi Freezer Pina Colada Mix

2
Tablespoons

powdered sugar

1
container

(8 oz.) Cool Whip or whipped cream

1

premade graham cracker crust or shortbread crust

1/2
container

(8 oz.) Cool Whip or whipped cream

3
Tablespoons

toasted coconut
Add To

Directions:
Combine cream cheese, pina colada mix and powdered sugar. Whisk until smooth.

Fold in 8 ounces of Cool Whip. Lightly spoon into prepared crust. Top with 4 ounces of Cool Whip and sprinkle on toasted coconut.

If freezing, leave off coconut and wrap tightly with plastic wrap. Allow to thaw slightly before slicing, and then sprinkle on the coconut.



Please note that some ingredients and brands may not be available in every store.
Food 4 Less
Recipes
https://www2.myfood4less.com/Recipes/Detail/6092/